The last five years Liverpool has seen an increase in abandoned boxer dogs as a result of over-breeding and the recession.
Boxer Rescue Liverpool is a small organisation formed in 2009 which is now struggling to cope with the number of boxer dogs been admitted to them.
The rescue now deals with at least five to ten dogs a week and has had to create a waiting list becaue they cannot house the dogs all at once.
The organisation says the  increase is due to many families being unable to afford a pet in the current economic climate and a lack of breeding restrictions.
Nicky Heeley, founder of Boxer Rescue Liverpool, said: "Due to there being no restrictions on breeding, too many dogs are being bred, meaning there's lots of puppies available but not enough homes for them. Puppies are sold for less and less meaning just about anyone can afford to buy one.
"Boxers are not the easiest of breeds if they are not brought up properly, so once they get to twelve months old and past the cute puppy stage many of them are handed into us."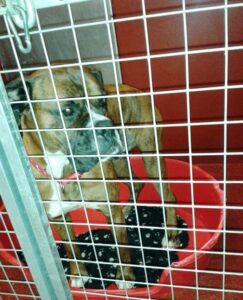 As a result of the recession, Nicky says, many people have had to increase their working hours meaning that dogs are being left alone for far too long and over half of the dogs given in to the organisation are handed in for this reason.
Nicky notes that boxer dogs are great family dogs and suggests advice to people thinking about adopting one. She says that when adopting a rescue boxer expect settling in issues, as the dog may be stressed due to being moved around a lot. Nicky stressed that dogs come in to the rescue with a lot of issues and are often very scared so it is important to be patient with them.
She said: "Sadly there are just too many dogs and not enough homes so you just have to give them the best you can until one day the over-breeding problem is sorted out.
"Until the law changes and restrictions are put in place with regards to breeding dogs things are going to keep getting worse."
For more information visit www.boxerrescueliverpool.co.uk.