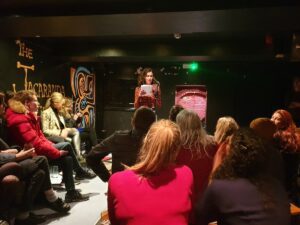 A new book has been released to mark the year anniversary of a spoken word event, with all profits going to Scouse Kitchen.
Give Poetry a Chance, which provides a platform for Liverpool-based poets, launched the anthology yesterday. The book contains poems submitted by those who have performed at the event throughout its first year.
Dan Cullinan, the organiser of Give Poetry a Chance, told JMU Journalism: "I hosted the first one on February 27th 2019 and it went really well.
"I thought there were only going to be a few people turning up, but there were about 40 people."
The anthology launch took place in the basement of the Jacaranda, where the book was read out in order by those featured in it.
Local poets such as Mary Olive, Laura Ferries and Ryan Lynch performed.
YouTube: Scarlett O'Toole
Scouse Kitchen is run by a group of volunteers. They feed and clothe Liverpool's homeless and needy every Wednesday at St Luke's Church.
Mr Cullinan said: "I think homelessness affects everyone. It doesn't discriminate, anyone can become homeless at any point in time."
He added: "It doesn't matter what your ethnicity is, your sexuality, your gender; homelessness can affect every single person."
Give Poetry a Chance: The Anthology costs £10 and features 21 poets.