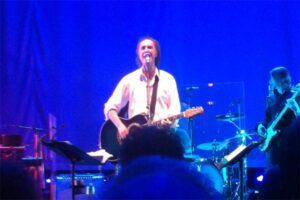 The Kinks legend Ray Davies filled the Philharmonic Hall this week with a set drawn from his rich archive, two months after playing at the Olympics closing ceremony.
The 68-year-old got the crowd going straight away, telling them all to sing along, and saying he would have bought everyone a round at the Philharmonic Pub afterwards if he hadn't have to shoot off straight afterwards for his next concert in Bath.
Davies played songs both acoustic and with a full band with tunes from his near 50-year-long career, including 'Waterloo Sunset', which has a surprising connection with Liverpool.
In 2010, Davies revealed to the Echo: "Liverpool is my favourite city, and the song was originally called Liverpool Sunset. Later it got changed to Waterloo Sunset, but there's still that play on words with Waterloo.
"London was home, I'd grown up there, but I like to think I could be an adopted Scouser. My heart is definitely there."
Davies might not have the vocal range he once had, but with a setlist of Kinks classics such as 'Days', 'You Really Got Me', 'All Day And All Of The Night' and 'Victoria', it's hard for anyone to complain.
He engaged the crowd with his charm and humour, telling stories from his days with The Kinks, and how they had to change at Liverpool Lime Street station before playing the Cavern in 1964.
The elderly woman close to my seat is probably still screaming for him to play 'Lola', but although he never did, he made it a night to remember.