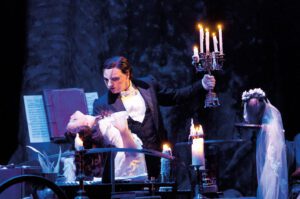 Phantom of the Opera has now been running for over 25 years, and Cameron Mackintosh's new production, now showing at the Liverpool Empire, shows that there's no sign of it stopping just yet.
While the script and music remain the same, the set has been modernised beyond belief.
Paul Brown's work is amazing, as the revolving stage gives the audience a countless number of stunning set changes, which matched the Gothic melodrama in intensity.
With both Earl Carpenter and his understudy both forced to pull out of the performance due to illness, the part of the Phantom was left to Welshman John Owen-Jones, who drove up to Liverpool to step back into the role he has performed over 2,000 times.
He performed like he was born for the role, effortlessly bringing a sensitivity to the disturbed character, and deservedly got a standing ovation at the end.
The song The Phantom of the Opera is where both Owen-Jones and Katie Hall, who plays Christine, excel. You would never guess Hall hadn't even made it through the boot camp stages of BBC's I'd Do Anything, as she belts out the highest of notes, giving the audience shivers every time she sang.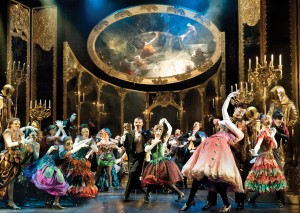 Christine's love interest, Raoul, was played by Simon Bailey, and, while he was a good performer, the chemistry between the two was nowhere near as believable as between Hall and Owen-Jones.
Andy Hockley and Simon Green, as the new theatre owners, brought a much-needed touch of comic lightness to the story, with the amusing operetta-style number Notes.
However, it was a bit of a shame that not all the lyrics could be heard clearly, due to Angela M Carter, playing Carlotta Guidicelli, having such a belter of a voice that it sometimes overpowered the other singers on stage with her at the time.
With timeless numbers like Music of the Night and Think of Me, Andrew Lloyd Webber's score is as fresh today as it was back in 1986, and is definitely one of those musicals that can be seen time and time again.
Phantom of the Opera runs at the Liverpool Empire from 20 February to 9 March, before moving to the Birmingham Hippodrome for the final leg of the tour.