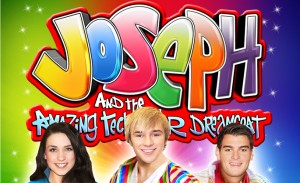 Joseph and the Amazing Technicolor Dreamcoat has landed in Liverpool and it's definitely one for all the family.
As one of the first Andrew Llyod Webber and Tim Rice musicals to be performed publicly, the musical has been touring for almost 40 years, and is produced by Everton Chairman Bill Kenwright.
Re-telling the Biblical story of Joseph, his 11 brothers and the coat of many colours, this magical production sees its protagonist go from poor, unwanted sibling to rich and well respected Pharaoh-number-two.
With an array of famous songs from 'Any Dream Will Do' to 'Close Every Door', it's not a surprise that this year's stars found some quite tricky to learn.
Lloyd Daniels, most notable for appearing on X Factor back in 2009, told JMU Journalism: "For me the most challenging would be Any Dream Will Do based on the fact that it's the most recognisable song. The most important thing I've learnt with that song is to go out and enjoy it and not make it a challenge for myself."
However Danielle Hope, the winner of the BBC's Over the Rainbow TV show, said: "My most challenging aspect was learning the colours and the 11 brothers' names. I'm still convinced that I'm going to miss one or get one wrong and the more you think about it, the more you're going to freak yourself out.
"There are 11 brothers and honestly for the first week, I was unsure I got them right!"
The colourful and bizarre concept of Joseph is quite different to other shows and it always gets members of the audience on their feet, clapping and singing along.
Children from the Performers' Theatre School also add to the magic. The local chorus acted so professionally throughout the production as they are constantly on stage.
Unlike the voice of Donny Osmond and Jason Donovan, to name but a few who have performed as Joseph, one notable addition this year is Lloyd's Welsh-lilt when on stage.
He said: "I didn't cover the accent up in rehearsals but the first thing Bill [Kenwright] actually said to me was that he liked it and I had to ask if he was being sarcastic."
Danielle, who has previously starred as Dorothy in Wizard of Oz and as Éponine in Les Misérables, added: "It's really nice. It adds to the innocence of the individual."
The warmth and camaraderie of the cast is shown throughout the show as the music guides you through the life of its lead character.
Joseph and the Amazing Technicolor Dreamcoat plays at the Liverpool Empire until Saturday October 18th.