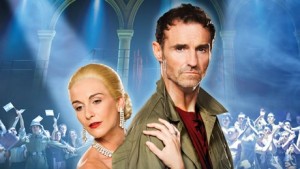 A rags to riches tale combining politics, fame and love, Evita is a musical based on the tragic true story of the actress turned beloved first lady of Argentina, Eva Duarte, brought to life through an enthralling soundtrack and magnificent cast.
Admittedly, this is the second time I've seen the show at the Liverpool Empire and the catchy and emotive scores written by Tim Rice and Andrew Lloyd Webber never fail to draw me into the story no matter how many times I've been to it.
Although very much the same set wise, the change of cast made for a different and interesting take on the characters.
Wet Wet Wet's Marti Pellow gave an enthusiastic and pleasing performance as the sarcastic narrator, Che Guevara.
He appeared on stage throughout ready to challenge the Perons at any moment, singing with heart the iconic line: "You let down your people Evita, you were supposed to have been immortal."
His voice strongly delivered the songs, if not seeming to lack a bit of grit expected from the revolutionary role.
Madalena Alberto shone as the true star of the show as she sang with flawless vocals.
Her knock-out debut performance playing Evita portrayed the feisty character with intelligence, ambition and spirit and left the audience wondering whether she truly was a power hungry actress or the voice of her people.
The set was minimal at times but with small clever changes it transformed to different scenes, such as the move from Eva's home town to the bustling city of Buenos Aires.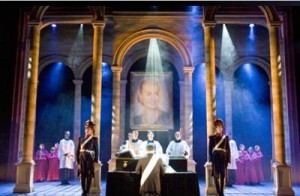 The opening scene at Eva's funeral was one of the most visually engaging with the eerie sight of her coffin and a large self-portrait hanging in the air, surrounded by the grand arches of a church.
An obvious hit with the audience, Madalena Alberto's performance of 'Don't Cry For Me Argentina' was chillingly beautiful, sung with conviction and looking every inch the 'saint' the people of Argentina painted her to be, in a glittering white ball gown and sparkling jewels.
Another highlight was Sarah McNicholas' rendition of 'Another Suitcase in Another Hall'; the small glance inside the life of Peron's mistress as she sung with heart-wrenching sadness resulted in wide spread applause from the audience.
However, it was the cathartic performance of 'You Must Love Me' between Eva and Peron, played by Mark Heenehan, who gave a gentle performance as the President, which gave way to some sobbing in the audience as the short life of the powerful Eva Peron came to a sudden end when she dies from cancer at the age of 33.
Tear-jerking and mesmerising, Evita lived up to the dramatic story it promised to be with no question in mind to why it's become one of the most iconic and well-loved musicals to date.
Evita is playing at the Liverpool Empire Theatre until Saturday 29th June. To book tickets click here.