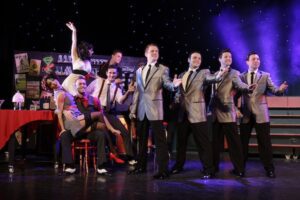 With audience participation from the word go, singers Jon Hawkins, Duncan Heather, Ricky Rojas and Damion Scarcella brought the famous songs of Frankie Valli and the Four Seasons to a full house at the Liverpool Empire.
Set in a '60s bar, the boys were supported by a trio of female backing dancers who acted as an on-stage audience in 'New Jersey Nights'.
With slicked-back hair and impressive dance moves, the cast brought the audience to their feet with the Four Season's number-one hit, Sherry.
From then on in it was a high-tempo showcase with hits such as 'My Girl', 'Be My Baby' and 'Da Do Ron Ron' the singers' pitch-perfect voices reached even the highest of notes in true Four Seasons style.
The only hitch in the show came when singer Duncan Heather was unable to sing a 'D' note- however it was handled with such good humour, and much ribbing from his fellow cast, that it could have almost been scripted.
Before the interval, the backing dancers proved they were fantastic singers in their own right with a rendition of The Ronettes' Bye Bye Baby which left the audience wanting more.
Aside from the flawless dancing and the fantastic singing, what really made New Jersey Nights stand out was the cast's natural rapport and interaction with the audience.
By the end of the show, the whole of the Empire was on their feet to give a standing ovation. With cries of 'more' from the audience, the boys gave an encore singing a mega-mix of Franki Valli's hits.