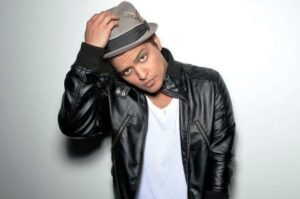 In a few short years, Bruno Mars has gone from Elvis Presley impersonator from a tiny American island to a worldwide retro soul star, touring his 'Moonshine Jungle Tour' around nearly 20 countries.
The Hawaii-born ladies' man might only be 5 ft 5 ins tall, but he certainly knows how to own a stage with just a white trilby and a microphone.
And it could be safe to say that the suave rocker was itching to get back on the Liverpool stage, as he tweeted after the show: "Liverpool! We back. One mo gin!"
Bruno and his forever energetic band, the Hooligans, treated the Echo Arena to a spectacle of music, laughter, and downright craziness for one night only. Mars, known by his family as 'Peter', promised a night the audience wouldn't forget under one condition: "Put your damn camera phones away and dance like your life depends on it and just have some real fun!"
But the photo hunters didn't go away empty handed, as Bruno and his eight backing musicians struck a pose, shouting: "We got you ladies…" as the crowd scrambled for their phoned and lit up the arena with flashes.
The soul train went on to amaze the crowd throughout the night with mind-blowing performances. During 'Treasure' and 'Runaway Baby', Bruno and the Hooligans did the traditional bump and grind, showing off their James Brown footwork and wild personalities.
The fanatical musicians ran through the audience during 'Marry Me', shaking sweat over the screaming fans they passed. His classics 'Just the Way You Are' and 'Grenade' saw the crowd sing in time, echoing through the arena walls.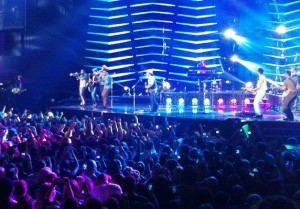 But Bruno knew it wasn't all about the James Brown soul train and Michael Jackson hip thrusts, as he showed off his vocals in 'When I Was Your Man' and 'Moonshine' with note-perfect renditions.
The EMA award-winner doesn't just sing and the audience saw that last night, as he whipped out his electric guitar and flaunted his all-round skills and he brought the night to a fever pitch when 'Locked out of Heaven' came next.
Shoving his brother Eric off the drums, Bruno hopped on and with a little sibling rivalry, showing the Echo Arena how he can out-do Eric on anything.
The Moonshine Jungle show was clearly one of rare energy and old school performing, leaving his Liverpool fans begging for more.