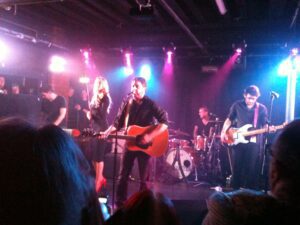 You could be forgiven for thinking it was St Patrick's night at the O2 Academy in Liverpool, rather than the first week in December.
That's because Amsterdam's show on Saturday night has so much of an Irish feel to it.
With Ian Prowse – who is also a member of the Irish Sea Sessions – and company playing their final show of the year, they were determined to make sure it was a party mood.
They succeeded, with many of the tracks coming from their latest album 'Does this train stop on Merseyside? The very best of Ian Prowse.'
The support acts came from local band Only Child, and main support was from The Ragamuffins, who as well as getting the crowd nicely warmed up for the main act of the evening, caused some laughter with their song Stories From the Back Seat which contained the line "she spells Kirsty with an STI," with front man Dave Jaggs providing some wonderful guitar work, even if he did trip over whilst in full flow.
But if they were given the approval by the man who travelled from Scotland wearing his Amsterdam t-shirt, then you know they did well.
At around 9.30pm, Prowse and Amsterdam entered the stage and they managed to get some people dancing who you wouldn't necessarily expect to see doing so.
The party spirit was summed up well on the night with one song Maybe There Is A God After All, a new release from Prowse about his baby daughter, although another track, Home, he said he had to play about a time when he was "heartbroken" because he gets so many requests for it, leading to large sections of the crowd joining in.
There were renditions of some classics, notably The Clash's London Calling, and the first verse of The Who's Pinball Wizard, which seemed to go down well.
As expected, they closed the night with a rendition of Does This Train Stop on Merseyside, a song that brilliantly fits as much of Liverpool history and culture as possible in just under five minutes.
With one verse of the song dedicated to the Hillsborough disaster, he urged the crowd to support the Hillsborough single of He Aint Heavy, He's My Brother.
He said: "If you buy one thing this Christmas, then please buy this," which prompted one member of the crowd to hold a 'Justice' scarf aloft.