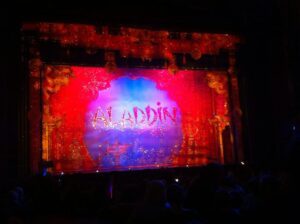 There's nothing like a Scouse Aladdin pantomime to get you in the Christmas spirit.
The stars on show at this year's Liverpool Empire's festive show include X Factor runner-up Ray Quinn, Brookside's Claire Sweeney and Shameless actor Warren Donnelly, as well as LJMU alumnus Benjamin Engelen, who played Wishee Washee.
The cast had the audience in stitches laughing, between Claire poking fun at Warren as the 'baddie,' Genie Joe Speare sounding more from London's Hackney rather than from a lamp, and no panto would be complete without a dame in the form of Roy Brandon, who played Ray and Benjamin's mum.
Quite different to the original tale, this story follows Aladdin – a poor boy working for his mum in the local laundrettes, as he agrees to accompany Adanazar on an evil quest in return for riches so he can win the Emperor's respect and blessing to marry his daughter, Princess Jasmine.
However, it's not all 'he's behind you' and 'oh no he isn't', as there's fun for the whole family, with some slight innuendos and jokes that would go over kids' heads so mum and dad can enjoy the show too.
The theme focused almost entirely on Liverpool, making the local audience feel more at home, whether it was taking a photograph outside the Greggs in St John's precinct or slagging off the Wirral audience members, telling them to "go home and pay their rent".
Not everything from the classic was lost and although Abu the monkey was missing, the magic carpet coming to life made up for his disappearance.
The Aladdin production also had a few new musical tricks, including current songs 'Happy' by Pharrell Williams, 'Rather Be' by Clean Bandit and Labrinth's 'Beneath Your Beautiful'.
In proper tradition fashion, 'The 12 Days of Christmas rang out and audiences members were asked on stage as the whole play ended in a party.
Aladdin runs at the Liverpool Empire until January 4th, 2015.