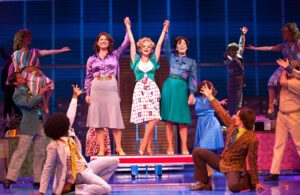 Got the January blues? Well, Dolly Parton has just the thing to bring a touch of sunshine into your life and put a smile back on your face with '9 to 5: the musical', which began a five-night run at the Liverpool Empire this week.
Based on the 1980 movie of the same name – starring Dolly herself – 9 to 5 is a fast-paced comedy that shines a light on a not-too-distant era when rampant sexism and inequality formed the backdrop to office life, as men dominated the workplace with unashamed chauvinism.
Much of the humour in 9 to 5: the musical derives from this aspect and cracks such as: "What do you call a woman who has lost 95% of her intelligence? Divorced!" leave the audience laughing at the attitudes of that period in time rather than the joke itself.
Dance numbers, featuring the music of Parton, give the production its non­-stop energy and it comes as something of an unexpected thrill when the country music legend makes an appearance from the start (albeit in hologram form) as the show's narrator.
As for the real-life performances, there is much to admire in the work of the musical's key protagonists: Jackie Clune, Natalie Casey and Amy Lennox. Reprising the role of Doralee Rhodes, as played by Parton in the movie, Lennox is especially impressive as it's much more difficult to fill the shoes (and 'wardrobe') of an icon and she manages to convey the spirit and vitality of Dolly without lurching towards parody or mimicry.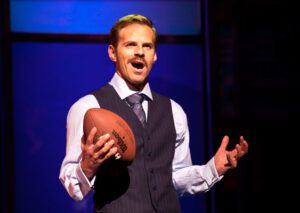 Casey, who will be familiar to students as one of the main characters in 'Two Pints of Lager and a Packet of Crisps', manages to steal most of the big laughs as office newcomer Judy Bernley.
Stage veteran Bonnie Langford is quite a revelation as uptight secretary Roz Keith, becoming surprisingly sexy in one number where she declares undying devotion to nightmare boss Franklyn J Hart, who is portrayed with some style by Ben Richards.
As good ol' boy Franklyn gets his come-uppance in a plot that offers much more to farce than anything close to reality, Richards delivers a convincing performance that is reminiscent of Ben Stiller in one of his period comedies on the big screen.
It came as no surprise to see the audience comprise of roughly 75% females, though you don't have to be a woman to appreciate the show's many merits. As one audience member was heard to say on her way out: "I loved that so much better than when I saw 'Chicago'."
Praise indeed, and if you like a fun musical, 9 to 5 comes highly recommended. It runs at the Empire until Saturday January 19th.