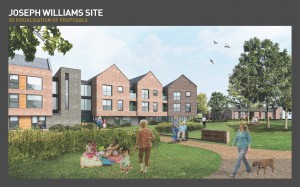 Plans for a new retirement village in Belle Vale have been revealed.
The new scheme will cost approximately £7.1 million for the 56 units and will be built opposite Belle Vale shopping centre on Childwall Valley Road. Onsite work will start this month with the completion scheduled for December 2014.
The village will be primarily for over 55's and will include one-bedroom apartments and two-bedroom flats for single ownership. For shared ownership the scheme offers 12 two-bedroom apartments and 14 bungalows which will have their own gardens and drive ways.
Along with plans for communal lounge facilities, offices, buggy store, laundry, IT suite, spar bathroom and a café on the ground floor, there is also the proposal to include a restaurant, meeting spaces and activity rooms.
Alix Johnson from Riverside Housing told JMU Journalism: "It will become the hub of the community and encourage integration to meet the needs of this group of residents. With the population of the country steadily rising and life expectancy dramatically improving in recent decades, there are more 65-year-olds in the UK than at any point in history."