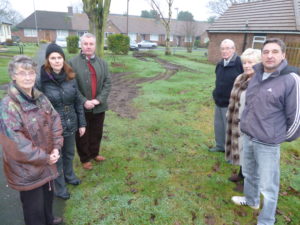 Residents in Maghull are becoming increasingly concerned over their village green being churned-up by vehicles turning in the tight road.
People who live in Kennessee Close, a fairly quiet area of Maghull, have teamed up with Maghull Labour Action Team and One Vision Housing to try and resolve the matter.
A meeting has been held with two councillors, Lynn Gatherer and Patrick Mckinley.
Cllr Gatherer said: "Residents from Kennessee Close contacted us because they were concerned that the green in the close was becoming a messy eyesore.
"The problem is exacerbated by cars being parked in the close by commuters who are leaving their vehicles all day when they travel into Liverpool for work."
At the meeting, One Vision Housing – who are responsible for maintaining the green – agreed to level and replant the green where it had been damaged and also said they would look into moving the 'no parking' signs closer to the entrance to try and resolve the issue.
Resident group spokeswoman Carole Murphy, who was encouraged by the meeting, said: "The problems we have experienced have been fairly recent.
"The cars churning up grass is one thing, but then the mud was going onto the pavement, which created a real hazard, then when you consider that many of the residents are older then you realise how dangerous it could be.
"At long last, it appears that someone is listening."
The Labour Action Team have promised to look into the matter and continue to keep an eye on it in the future.
Cllr McKinley described the meeting as productive. He said: "Cllr Gatherer and I will continue to monitor the Close and speak to the residents to ensure that their concerns are addressed."