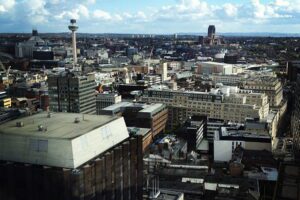 Research warns of a "crisis in representation" as statistics reveal there are only 18 black teachers out of more than 3,000 working in Liverpool.
This city's teaching workforce fails to match its rich ethnic diversity, say education research consultant Marie Charles and Professor William Boyle of Manchester University.
The researchers used Freedom of Information requests to find that compared to the 3,380 white teachers, there are just 18 of black ethnicity – a figure which they say remains relatively unchanged in the last 30 years.
Their paper, entitled 'How can only 18 black teachers working in Liverpool represent a diverse teaching workforce?', claims that in terms of population, there should be 90 black educators if the amount was represented proportionally.
The research identifies Liverpool as having "minimal black representation" in all departments of the council workforce, but Marie Charles says this is particularly damaging in schools: "It is the one face of civic power that every child will meet. It is a very powerful role to be in. It is about representation across society. It is a message about who are the creators of knowledge."
Liverpool-based Paul Sesay, the founder of the National Diversity Awards, said he was already aware of the lack of black and minority ethnicity (BME) representation locally, and claimed that it is the "endemic across all professions" in the city.
"Merseyside is a very diverse area but it's not represented within the workforce; whether that be because of a postcode, name or the colour of a person's skin," Mr Sesay said.
He stressed that the council must do more and urged officials to work closely with communities, encouraging children so that they have the confidence to succeed in any industry.
Paul told JMU Journalism that one of the teachers mentioned in the study was a close friend of his, who works in a predominately BME school, adding: "The students like him as a teacher because he's representative of the majority of the students at the school.
"He gives them confidence because they can see that it's possible for someone of their background to succeed. That's a really important message to get across at school age."
When asked about the figures, a council spokesman said: "We are not complacent and accept there is more to do. School Improvement Liverpool, the service that supports children from ethnic minority and traveller groups, works hard to provide positive role models and encourage young people to consider a range of future careers including teaching."
He added: "Comparison with other large cities shows that they face a similar challenge so it would be wrong to suggest this is an issue solely confined to Liverpool."