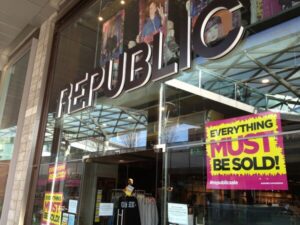 Clothing store Republic is the latest high street retailer to go into administration.
The news was announced last week and Ernst & Young was appointed administrator to the chain of stores across the UK.
There are four Republic stores across Merseyside, including Liverpool One, Birkenhead, Chester and Warrington. The shops will continue to trade while the search for a buyer continues. The website has been shut down and the only information it provides is details of the administration and the current sale at the stores.
Republic has 121 shops in total and 2,500 employees, all of which now risk losing their jobs. The head office is situated in Leeds, and since the announcement, 150 staff have already been made redundant.
The fashion store focused most of its retail in the North of England, which is an area particularly badly affected by the recession.
Staff tweeted the following after the announcement: "Sadly #Republic is now in the hands of Administrators. We did all we could but it's simply too tough out there. Thanks for your support."
One employee, who wished to remain anonymous, told Liverpool Life: "The stock's been really bad for ages and they've been cutting corners with the stock quality wise. I had a feeling something was going on about a month ago when they were really pushing internet sales and then last week it became pretty much official that we were in trouble.  They were supposed to get rid of half the stores and that would have helped, but the landlords wouldn't lower the rent payments or contracts so now the administrators have taken over. They have sacked half of the head office staff and the staff at the stores will be next. The website is closed now and we're not taking gift cards or returns."
The youth clothing brand has been struggling for a while and suffered from poor trading in recent years, as more people turn to online to shop. Republic's profits were down by eight-six percent in the year leading to January 2012.
The administration of Republic is the latest of the high street stores to announce the same news. Other recent closures have included Comet, Jessop's, HMV and Blockbuster. Liverpool's popular hardware store Rapid also announced its closure earlier this month.
Which? gave a statement providing advice for Republic customers: "If a store goes into administration it may refuse to accept gift vouchers, though this situation may change. If they do refuse and you need to make a claim, write to the administrators with proof of your vouchers. Unfortunately there is no guarantee that you will get the full value back, and a claim could take some time for the administrators to process."
Timeline of high street retailers administration
January 2009: Woolworths closed all its 800 stores, some of which were filled by other retailers, some of which were demolished or still remain empty.
February 2009: Zavvi stopped trading at Christmas – and refused to accept pre-purchased giftcards.
December 2009: Borders closed as sales of CDs and DVDs were quashed by digital downloads and online entertainment shops.
October 2012: JJB Sports closed most stores, saving 20, which were taken over by Sports Direct. 550 employees lost their jobs.
December 2012: Comet shut down before Christmas, leaving around 7,000 staff out of work and leaving a £50million bankruptcy tab.
January 2013: Jessops was closed by administrator PwC after struggling to survive against online competition.
January 2013: HMV and its 239 shops and 4,500 staff, announced that it was calling in administrators. The company also did not honour gift vouchers, many of which were given as Christmas presents.
January 2013: Blockbusters announced the closure of 129 UK stores and 760 employees poised to lose their jobs.
February 2013: Well known Liverpool hardware store Rapid closes suddenly and announces its administration, with 100 staff losing their jobs.
February 2013: Republic announces administration, leaving 1500 employees at risk of losing their jobs.