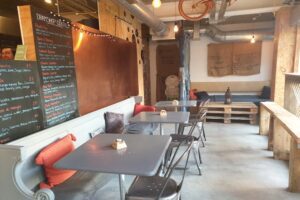 Liverpool pop-up bar Dram Shop has been given a second chance after customers were upset over plans for it to shut.
The cocktail bar was set to close its doors before the end of January, but its lease has now been extended due to a potential sale of the property falling through.
Bar owner, Steven Mealor, was asked by many regulars to fight to keep it open, with some saying it is their favourite place to go. Mr Mealor said: "We get a lot of attention and people seem to really like us. We get a lot of positive feedback, which has been great.
"We've got quite a lot of Facebook followers. We get a lot of goodwill and we had a lot of people upset that we were going to close."
Since opening in October 2018 on Gradwell Street, Dram Shop soon become a popular retreat for city centre drinkers.
The renewed lease has sparked a new menu of sandwiches, burgers, nachos and chocolate tortillas. It has given the bar the chance to host special occasions, including a speed dating event for Valentine's Day, movie nights and bingo quizzes.
Dram Shop also plans to host a monthly open mic night called 'Shut up and Listen'.
YouTube: Shannon Lyon
The team featured themselves at the Bombed Out Church last weekend for the celebration of Chinese New Year, as they served up some on-theme cocktails to showcase their return.
They are already sourcing ways to make their business grow, through advertising as a party venue and organising its own food festival for local restaurants around Liverpool.
The restaurant will be at one of the biggest festivals in the UK this year, showcasing its food at Parklife.