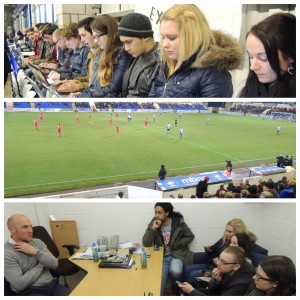 Sports journalism students from Liverpool John Moores University swapped the comfort of the newsroom for the stands of Chester Football Club's Swansway Stadium on Tuesday night for a live match reporting exercise.
Heavy rainfall, hearty tackles and just over 1,700 fans welcomed the budding journalists at the relegation battle between Chester and fellow Skrill Premier League strugglers Tamworth and it offered up a few new challenges.
This was the first opportunity to witness a live football game for some students and offered all a taste of the reality and difficulties facing a sports journalist out on the job.
With video replays absent and no running commentary to speak of, the task of reporting the match was tough but rewarding for students.
Kerryleigh Gough said: "It was a new experience for me as I've never been to a football match before, although it was a lot harder than anything we've ever done in class.
"It was really interesting and enjoyable and now I feel that, given the chance again, I would improve as I know how fast paced it is and how to react in the situation."
With the press box filled by local radio and print journalists, the 13 students joined the season ticket holders in the stand, which highlighted the differences between attending a football match as a fan and a reporter.
Paul McIntyre spoke of how his laptop battery ran out of power, forcing him to turn to writing on paper in the old-fashioned way. He said: "Next time I'd probably bring a second laptop as mine died. Despite the extra weight it would have probably been worth it!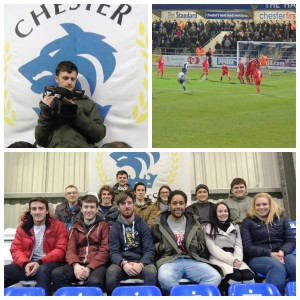 "Overall though, I'm happy with my performance and how it all went. It is certainly a lot more difficult without the benefit of replays or pauses."
There was also the chance to interview Chester FC manager Steve Burr after his side's 2-0 victory.
This was an experience that JMU Journalism student Loren Mitchell enjoyed.
He said: "It was good to get the opportunity to speak to a manager following a game you've just covered and to get to see how he saw events and compare them to your own thoughts.
"He was very open and I liked how we had to think on our feet as group to keep the press conference flowing. I thought we bounced off each other well and were able to get some good insight."
JMU Journalism TV report by Jack Maguire & Nathan McCrae