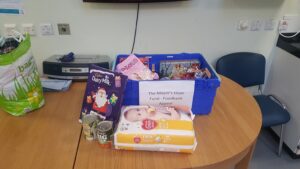 With Christmas around the corner, a renewed appeal to the generosity of Scousers has been made by a councillor who supervising the collection of food and essential items for those in need.
Liverpool City Councillor Liz Parsons says the problem of austerity has made her work and that of the Mayor's Hope Fund even more vital, as it aims to provide aid to families who are dealing with issues of poverty.
Cllr Parsons, who is running the initiative at Picton Children Centre, is in the process of sorting through the masses of existing donations, but says there is still more work to be done.
The Labour councillor for Childwall told JMU Journalism: "When you're in an area of high deprivation and poverty, these donations can make the difference as to whether somebody eats that night or not.
"It's difficult for many people who maybe can't afford to donate, but that's fine – don't feel bad about that – but for those of us that can donate, we must. It's about looking out for community members, looking out for our neighbours."
YouTube: Sean Whelan
Cllr Parsons added: "It could be any one of us relying on others' generosity, we might be fine now but were only ever a couple of pay cheques away from being on the breadline. We also need to make sure there is no stigma or shame about people's situations, it isn't their fault."
Picton Children Centre is just one of a number of venues being used as a drop-off point for food donations which range from the essentials to seasonal extras.
The essentials include tinned fruit, tinned vegetables and savoury rice. The seasonal extras consist of advent calendars, selection boxes and Christmas crackers, amongst other items.
Mayor Joe Anderson said: "Unfortunately, many families are continuing to struggle to support themselves which often results in them going without food. It is hard to believe, but this is a real issue in our city where we have many deprived communities.
"Liverpool is currently undergoing roll-out of Universal Credit (UC) and with claimants having to wait up to five weeks before benefits are paid, the fear is even more people will be forced to the rely on foodbanks."