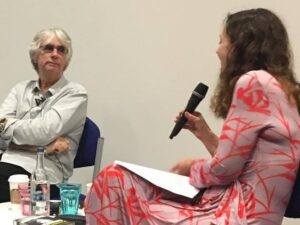 TV producer and writer Phil Redmond spoke to Liverpool Screen School students yesterday about his bid to bring Channel 4 to Liverpool.
The talk was in a packed lecture theatre in Redmonds Building – named after Phil and his wife Alexis – and came as the highlight of induction week.
Phil, who is Honorary Professor of Media Studies at LJMU, was the driving force behind ground-breaking TV dramas including Brookside, Grange Hill and Hollyoaks.
Channel 4's relocation has been in the pipeline for a while, with Birmingham, Salford and Liverpool all showing an interest.
Redmond said: "The only city outside of London where Channel 4 should be is Liverpool. It's prepared to stand up and has uncomfortable views, which is why Brookside was set here. We have the voice."
Listen to JMU Journalism interview on SoundCloud
YouTube: Portia Testa & Matt Ramirez, JMU Journalism
Phil explained that for the 21 years Brookside was running, Liverpool provided 60pc of Channel 4's income. The move to Liverpool could create over 800 jobs for the country's second capital of culture.
He told his audience of future media graduates: "Having a major broadcaster on your doorstep is an advantage."
Looking back over his career, Phil said Grange Hill was loosely based on his school life: "Having kids speak with a working class accent was like the end of civilisation to the BBC."
Grange Hill had one of the highest viewer counts for a launch any series had seen. At 6.5m viewers, the show became very popular very quickly and was one of the longest-running programmes on British television.
After over 25 years in the television industry, Phil published his first novel 'Highbridge' in 2016.
His move out of the television industry was prompted by how hard he found it to make the programmes he had envisioned, ultimately leading him to sell Mersey Television in 2005.
Phil decided he didn't want to go back to TV but missed the storytelling aspect of the job, which is where he found his love for writing books. Phil has said he aims to continue publishing more books in the new 'social thriller' genre he hopes to introduce to the literature industry, with a second and third book in this genre already lined up.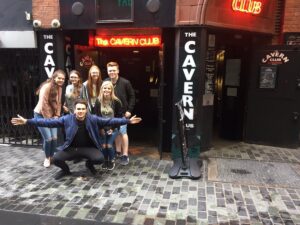 His talk was the highlight of the week's induction schedule, which saw new JMU Journalism students race across the city to create a live blog; take part in a news quiz and film screening; visit Aintree racecourse, and take a trip on the world-famous Mersey ferry.
The live blog was published on Facebook so fellow students could keep track of what was going on, and involved tweeting from a variety of locations, from the Cavern Club to the Tate gallery.
Programme leader, Jackie Newton, said: "We're always delighted to welcome the fresh intake of eager faces at the start of the new semester. It's a warm welcome to the Class of 2020 – and we're doing our utmost to make sure you're going to enjoy your time with us."
Reporting team: Matt Ramirez; Ross Hilton-Inkpin; Jess Grieveson-Smith & Portia-Cherish Testa.