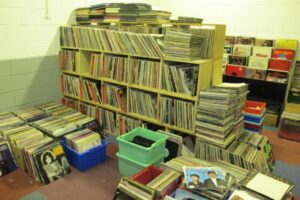 An independent vinyl record store has sold its entire stock of 15,000 records on eBay for £6,100.
'The Vinyl Emporium' or 'Hairy Records', as it was previously known, was based on Bold Street but closed down last March due to "circumstances concerning the property" according to a statement on its website.
Its former owner music store entrepreneur Spike Beecham was keeping all the stock in a warehouse in the Baltic Triangle, but decided to put the collection up for sale last Friday.
The estimated 15,000 LP's and 12" singles was listed as: 'All genres including Rock, Pop, Prog, Metal and Reggae. Not a lot of dance, 50s, 60s, Beatles and Rolling Stones. Records are used, some are to be skipped, many are in fantastic shape.'
Starting price for the auction began at £1,500 with total of 40 bids resulting in the eventual sale at £6,100.
A number of fans of the former Bold Street store took to Twitter over the weekend to lament the closure and discuss the sale.
Andrew Ellis, a music tour manager and events producer in Liverpool, said: "So sad to see 'Hairy Records' is selling their entire stock on eBay. It's worth infinitely more and it's their life's work.  There's so many gems in there, Postcard, Dischord, Rough Trade. Wish they'd do a final sell off beforehand to raise more £'s."
The sale comes amidst a renaissance in vinyl collection with it reported last month that sales figures showed that 780,000 vinyl LP's were sold in 2013, the most in a year since 1997.
However, the Vinyl Emporium closure means that Liverpool is left with just two independent record stores, Probe Records, based on School Lane, and 3b Records, on Slater Street.