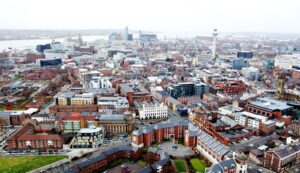 A new mobile application has been backed by Liverpool City Council to showcase things to do in Merseyside with real-time updates.
Welcome 2 Liverpool developers are designing what they claim will be a first for event-planning apps in a programme that will show the user what is happening in the city and beyond at that exact moment.
Currently, event planning websites show what's going on days in advance, whereas Welcome 2 Liverpool pledges to tell fun-seekers what is available live around the Merseyside area, spanning from Southport to the Wirral. A location option will highlight what is closest and where.
For those seeking to learn more about Liverpool, videos of local landmarks will be hosted by local historian, Ken Pye, to inform visitors about the history of the area, providing facts that would normally require internet research.
The events which are displayed will be regulated by Welcome 2 Liverpool, with selected organisations having power to add others to the app by themselves.
YouTube: Tom Swift
Mike Shaw, co-owner of Welcome 2 Liverpool, told JMU Journalism: "Often you don't know what you want to do until you see it on a screen. What this app will do is show you what's on in the next half an hour, rather than a few weeks.
"You can't always find what you're looking for on Google, but Welcome 2 Liverpool will have some of the more obscure events that are overlooked a lot because they won't ever get specifically searched for on the internet."
The categories included in the app include food, music, free events and family activities amongst others. These can be personalised by the user for their specific hobbies and interests.
With the application still in development, Welcome 2 Liverpool is set to be released by the beginning of March.