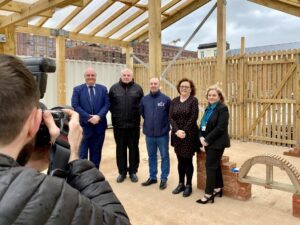 A call to arms has been given to ex-servicemen in a bid to get them back into the workforce on building sites.
The City of Liverpool College launched a new programme this weekend aimed at supporting veterans who are looking to develop skills, gain qualifications and find employment in the construction industry.
For lots of ex-servicemen and women, the transition back into a 'normal' environment can prove difficult.
A Liverpool Veterans spokesperson told JMU Journalism: "There are lots of problems with veterans when they transition back into daily life. For the majority of them, they only have basic skills, this means that nobody is willing to give you a job.
"As the likes of the Royal Navy and Marine corps are more skills-based, their soldiers will come out well trained with a second-to-none work ethic, however, infantry soldiers will not have had the same opportunities.
"This, alongside mental health issues, can present problems for future employment."
With £500,000 in funding received from the Government's Construction Skills Fund, Liverpool's first on-site 'Construction Hub' will appear alongside three other areas for teaching and office purposes.
It is no secret that Liverpool is a highly-industrialised city. With the creation of 9,000 new homes, 315,000 sq.m of business space, a cruise liner terminal, an Isle of Man terminal and an accompanying hotel in the pipeline, the need for skilled construction workers in Liverpool of paramount importance.
The hub will provide the opportunity for all students to receive practical, work-ready site-specific training in a real construction site environment.
Twitter: Peel Waters
The latest #construction update video is here! Take a look at all of the recent progress at #LiverpoolWaters. #regeneration #Liverpool #waterfront pic.twitter.com/IlxwKKB5QD

— Liverpool Waters (@PeelLivWaters) January 27, 2020