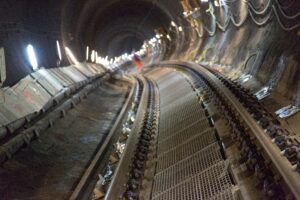 The return of Merseyrail's Wirral Line following essential repairs later this month is expected to present challenges for commuters using James Street station.
Only one platform at James Street will be in use for the first week of reopening after its closure on January 3rd earlier this year as the line enters its second phase of repairs.
The city centre loop has been completely closed since then, requiring passengers to use replacement bus services on their commute into the Merseyside area instead.
Merseyrail's Managing Director Jan Chaudhry-van der Velde said: "We do recognise that phase two will take a bit of getting used to, and rest assured we will have plenty of staff on-hand to help and guide people, with particular focus on James Street station."
The closure is to allow engineers to replace the ageing concrete based tracks within the loop line and those below the river.
There will, however, continue to be a number of options for people travelling across the river at weekends – including rail replacement buses, existing cross-river bus services, Mersey Ferries and by car. The tunnels are generally providing a free flow of traffic at weekends.
The work is part of a £340m investment in the Liverpool City Region (LCR)'s rail network over the next three years.
For 15 weeks, all Wirral line trains will start and terminate at James Street station on weekdays from February 13th to May 29th, whereby weekday direct trains from James Street to Wirral can start again. Merseyrail Wirral line passengers have been warned of the "challenges" the first week of Phase two (February 13th-17th) will present.
YouTube: GYRUSS
Over the weekends following this, all services will start and terminate at Birkenhead North and Birkenhead Central stations and rail replacement services will run between Wirral and City Centre stops.
Frank Rogers, Interim Chief Executive of Merseytravel, said: "The first phase of the track renewal work has gone successfully both from a works perspective, with Network Rail on course in a challenging and intensive project, and in terms of the way passengers have adapted brilliantly and graciously to making their journeys in different ways."
For 20 days between May 30th and June 18th during the third and final phase, all Wirral line trains will start and terminate at Birkenhead North and Birkenhead Central. Rail replacement buses will run between Wirral and Liverpool Stations.
However, those attending the Grand National need not worry, as special arrangements will be implemented for the week of the racing festival, along with Easter and May Bank Holidays, with trains starting and finishing again at James Street.
The line will close once more from Tuesday May 30th until Sunday June 18th for the final stages of repairs.