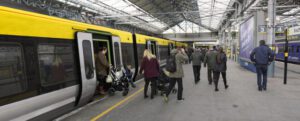 Union workers have continued to lock horns with rail bosses, with further strike action held at the weekend in the row over removing guards from trains.
Rail, Maritime and Transport union (RMT) members braved the freezing temperatures to form a picket line at Lime Street Station on Saturday, having walked out on Merseyrail shifts in protest over safety concerns.
It was the 16th day of industrial action over the dispute in the past year.
Mike Connelly, Corporate Affairs Director of Abellio Group representing Merseyrail told JMU Journalism: "We are going to run a reduced service on the strike day and expect to put out 30% of trains out from 7am to 7pm as we expect many drivers won't cross the picket line."
The service was then further reduced due to poor weather conditions that added additional strain to travel services throughout last week.
James Kirk, an RMT supporter from Merseyside who was on the picket line, told JMU Journalism: "It's been a good morning. We have a cross section here – a mixture of Merseyside residents, guards, unionists, Labour supporters, to show the public that we are fighting for their safety on trains.
YouTube: Jasper Hunt
"The drivers have shown us great support and no Merseyrail drivers have crossed the picket line. A few have for Northern Rail, but that's their decision.
"Our reason for this is entirely for safety. We have many visitors to Liverpool at many times of the year, and when you have such numbers on your system, it's your duty to make sure these people stay safe. We have great support from the RMT community – the praise we've been getting from this morning is absolutely fantastic."
After a series of meetings, talks broke down and another strike day was organised over concerns of removing guards on trains when Merseyrail's new fleet comes into service in 2020.
Mr Connelly said: "We will always make sure people are safe. There will be British Transport Police, ticket examiners, and security guards. The new advanced design, technology and safety features available to us mean we will no longer need guards on our trains in 2020. Merseyrail is, however, still the most staffed train system of its size."