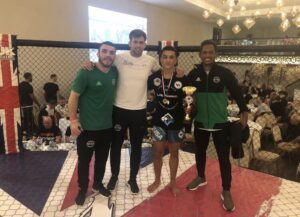 A Liverpool Mixed Martial Arts fighter made an explosive start to his career by winning his first contest in under a minute.
Saturday night marked the United Kingdom Fighting Championships debut for Marlon Jones, an 18-year-old from Liverpool.
Jones, from Liverpool's Aspire gym, went up against Manchester Predator's 25-year-old Tom Wright in Preston's Imperial Banqueting Suite.
The fight did not last long, with Jones defeating Wright in a first round rear naked choke in less than 60 seconds.
He told JMU Journalism: "I feel great getting the win, especially in less than a minute. It's a great way to break into my UKFC contract."
In August, Jones agreed a three-fight deal with UKFC, making him the third amateur fighter to be signed with one of the UK's leading MMA promotions.
Facebook: UK Fighting Championships
Jones added: "I felt nostalgic with it finally being me back in the cage after a long lay-off. Rather than being at the shows always in the corner and watching, it was finally my time."
Dean Garnett, an Aspire trainer working closely with Jones, told JMU Journalism: "It was an exceptional performance. I wasn't sure if he was rocked or slipped, but he recovered well and finished his opponent with little resistance."
Jones is now ranked sixth in the country in the Bantamweight bracket, and the young fighter is looking forward to where his career will take him.
He told JMU Journalism: "I'm onto the next one now, getting ready for my next fight on November 30th. In my hometown, Liverpool, I am going for the Almighty FC Bantamweight belt."