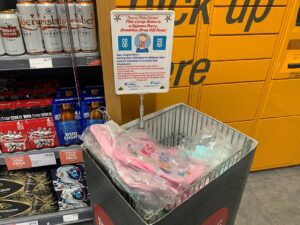 A mother and daughter team from Woolton is collecting pyjamas for children in the area who are homeless or in need, in time for Christmas Eve.
Pyjama Party Liverpool is the brainchild of Karen and Ash Downing, and they have been running the community-led campaign since 2013.
Founder Karen told JMU Journalism: "Pyjama Party Liverpool started in response to a Shelter poster I saw in 2013 that stated there would be 80,000 children homeless on Christmas Day in Britain that year.
"The aim was to collect enough donations between family and friends to donate to a local hostel or domestic violence refuge.
"Due to its success over the years we have been able to extend that reach to not only homeless children but those who are vulnerable and in need too."
The campaign is now in its seventh year, and Karen states the only reason why it has been so popular is down to help from volunteers, who offer to host collection points, sort through and bag-up the pyjamas, as well as distributing them to services too.
The 49-year-old said: "We never could have imagined Pyjama Party would be so successful – it's become a real community appeal that only works because of everyone involved.
Twitter: Megan Stringer
A collection point for people to donate Pyjamas to Pyjama Party Liverpool, inside Myrtle Street Co-op. The aim is to collect PJ's to give to children who are homeless or in need this Christmas, & several pairs have already been donated. You can donate until Dec 8. @JMUJournalism pic.twitter.com/EX7giSI8UT

— Megan (@mstringerjourno) November 6, 2019
"We're just so grateful that we have been lucky enough to have such amazing support. Last year was our most successful yet with 4,218 pairs of new pyjamas donated. Due to the success of last year, we were able to cover over 50 different services, including hostels, refuges, children's services and food banks."
Pyjama Party Liverpool distributes donations to a number of different services that work with children and young people who are homeless or in need across Liverpool, Wirral, Knowsley, Sefton, Halton, St Helens and West Lancashire.
There are various drop off points around Merseyside, including all Co-op Food and Funeralcare stores in Liverpool, and several Tesco stores, as well as local businesses.  They accept new, unworn pyjamas, at their drop-off points until Sunday December 8th, 2019.
For a full list of sites, visit Pyjama Party Liverpool's Facebook page.