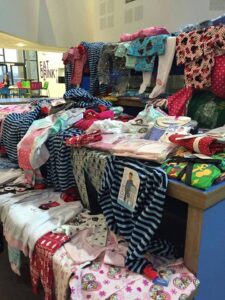 The number of children who are left homeless this Christmas is set to reach an eight-year year high with more than 120,000 on the streets across the UK, according to analysis by leading housing charity Shelter.
In a bid to help, Pyjama Party Liverpool was set up in response to the growing number.
Speaking to JMU Journalism, a spokesperson for Pyjama Party Liverpool said: "From the outset, we only anticipated that we would collect pyjamas between family and friends and donate to our local family shelter or hostel.
"However, the project grew really quickly and we were receiving messages of support and donations from Italy, Portugal, America as well as other counties in the UK, it was totally unexpected but once we saw the response we knew we had to continue and we are now in our fourth year."
As temperatures have recently dropped across Merseyside, it is more important than ever to contribute to this cause.
"Even one homeless child, in our city or anywhere in fact is one too many. Children should not be homeless at any time of year, especially at Christmas, when everything is centred around the home and family."
With just under three weeks to go until the festive season, the charity are urging people to think about those who are in desperate need this winter and what their donations mean to them.
"Pyjamas are only a small thing, but they represent warmth and comfort and show let the children know that someone is thinking of them. Buying a pair of pyjamas for a child doesn't seem like enough but they mean so much to the children, families and projects we work with. Having new pyjamas on Christmas Eve is kind of a tradition isn't it?"
The charity received over 2,000 pairs of pyjamas in 2015 from across Merseyside and, with drop off points across the region, it couldn't be easier to help Pyjama Party Liverpool spread a bit of warmth across the city this Christmas.
Some of the Liverpool drop-off points are J B Leitch Solicitors Limited (by L1 John Lewis), Waterstones in Liverpool ONE and all branches of the Co-Op Food and Co-Op Funeralcare across the Merseyside region. Collections close on December 16th 2016
YouTube: Jack Maguire, JMU Journalism