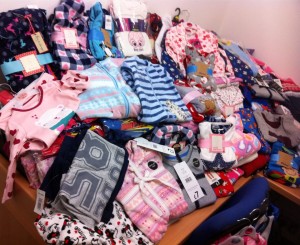 Around 90,000 children in Britain will spend this Christmas homeless but one cause is aiming to spread some joy.
Pyjama Party collects pyjamas to give to children that are homeless in hostels, shelters and crisis centres across Merseyside.
Donna Thomson, Co-ordinator of Pyjama Party Liverpool, told JMU Journalism: "We want to have the chance to be there for the children so they have at least one thing.
"We keep saying it's not just pyjamas it's much more, not because there practical, it's a bit of warmth and comfort, a bit of dignity for the children when they have got nothing else."
The project was started last year by Karen Downing and her two friends after they saw a Shelter poster outlining just how many children are homeless in the UK.
Thomson added: "Karen saw the Shelter poster and she thought it was an outrage and decided to do something about it."
Last year they had only three weeks to collect pyjamas but campaigned on Facebook and Twitter to get people donating.
This year people can donate four ways. They can drop of pyjamas at various drop points throughout Merseyside, purchase the pyjamas via Amazon Wish list, do a group collection and they will pick them up, or people can buy pyjamas and send them directly to the organisation.
Thomson told JMU Journalism: "A lot of people that send pyjamas are ex-pats that don't live in Liverpool any more and they still want to help we have had pyjamas come in from Dubai and Australia it's unbelievable as well as donations all over the UK."
She added: "New pyjamas at Christmas Eve always is kind of the done thing in families, it's the last thing a lot of families depend on buying and they just don't have the funds for these things. By donating it's just a way for the community to say that they care and that the children are considered."