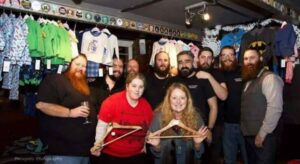 Donations are being called for to help clothe homeless kids over Christmas, as a mother-and-daughter team returns with their festive initiative.
The 'Pyjama Party Liverpool' is a family-run business that provides brand new pyjamas to children who are less fortunate or homeless at Christmas.
Karen Downing set it up in 2013, and her daughter Ash Downing now works alongside her. The idea came about after Karen came across a Shelter poster stating there would be 80,000 children homeless in Britain that Christmas.
She wanted to do something to help and, with other appeals in the city collecting food and toys, she thought pyjamas would be a good idea. They collect a range of nightwear, from newborn size up to adult XL for the older teens.
Ash told JMU Journalism: "Wearing new pyjamas on Christmas Eve is already a big tradition in Liverpool and my mum wanted to spread a little extra comfort and kindness for children and young people going through a difficult time.
Facebook: Pyjama Party Liverpool
https://www.facebook.com/PyjamaPartyLiv/videos/1965794063660139/
"New pyjamas can seem so simple, but it means so much to the children and young people who receive them to know others out there care and want them to feel included at Christmas. The feedback we get from the services is what keeps us coming back each year."
"Our goal each year is to just spread the word and get donations in. We never have a specific target to aim for as every single pair means one more child or young person can fall asleep on Christmas Eve in new pyjamas and that's what this all about. "
There are more than 20 collection points across Liverpool where people can donate. With the support from the public, it has so far allowed Karen and Ash to cover services in Liverpool, Wirral, Knowsley, Sefton, Halton, St Helens and West Lancashire.
Ash said: "The increase in support and donations has meant we have been able to extend the Pyjama Party and donate to services not only working with children and young people who are homeless but that in need, too.
"Pyjama Party Liverpool is about people coming together to make a difference and we hope to continue to do this each year."