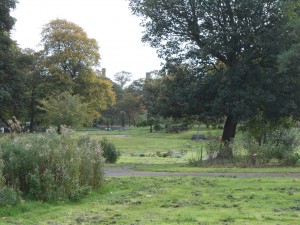 The public and local businesses are being given the opportunity to have their say about the future of Liverpool's green and open spaces.
The newly-established Strategic Green and Open Space Review Board is holding a series of meetings across various locations in the city this month in order to hear people's views and opinions.
The board, chaired by TV presenter and former Brookside actor Simon O'Brien, held its first meeting this week at the Southern Neighbourhood Council in Toxteth.
O'Brien told JMU Journalism: "I'd been campaigning quite vociferously against the council about issues in my local neighbourhood before the Mayor called me and suggested he would like me to chair this board.
"I've spent a long time banging on the door from the outside and I realised that I'd like to find out what it would be like banging on the door from the inside."
The meeting raised a number of issues, including a debate over whether there is an unequal distribution of green and open spaces in the city. The majority of parklands and open areas are in south Liverpool as opposed to being more evenly spread into the areas north of the city centre.
There was also debate over how the parks could be utilised more constructively, with the board encouraging the growth of food on various sites.
O'Brien added: "I'm always thinking about ideas where people can use the parks to make money as well, because other cities do that better than us. You go to somewhere like Munich, and where's the biggest Bierkeller? It's in the centre of the park. They use their parks as a place to gather rather than just to go when it's sunny."
Liverpool City Council's Director of Community Services, Ron Udenaiya, was also at the meeting.
He said: "Green spaces are non-statutory and by the end of next year there will be no money left for non-statutory services. This is the scale of the devastation that's happened to the city's finances.
"We have to be positive though, because there are ways of doing this, and that is the point of this Board and these meetings. We have to look at how we generate resources to continue to run and maintain the things that are precious to us."
The next public meeting will be held on 12th March in Croxteth.