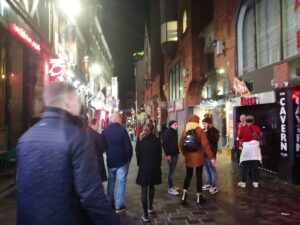 Public consultations have started on the first draft of plans to transform Liverpool's Cavern Quarter, Whitechapel and Williamson Square.
The outline of the Spatial Regeneration Framework (SRF) is being shown over the next five weeks to allow the Liverpool City Council to consider public opinions before submitting a final proposal at the end of November.
It comes after a recent tourism report called for a "clearer proposition around Liverpool's pivotal role in the story of popular and contemporary music".
The initial draft proposes to enhance the Cavern Quarter's daytime offering. It also includes ideas to bring in new public art on blank walls around the Cavern Quarter and Whitechapel areas.
Williamson Square is also being redesigned to include space for performance, planting and seating.
The council's consultation report said: "Beatles-related tourism makes a significant contribution to the City's economy and there is a need to ensure that the area's music and cultural heritage caters for all sectors of the population and continues to draw tourists and visitors."
Consultation events
• Thursday 24 October 10-3pm One-Stop Shop, St John's Market
• Friday 8 November 10-3pm One-Stop Shop, St John's Market
• Tuesday 19 November 2-5pm at RIBA North, Mann Island
Liverpool is recognised as a UNESCO City of Music and brings in £90m a year in music-related tourism. The city's musical heritage is predominantly centred on The Beatles, who played at the Cavern Club 292 times.
Councillor, Nick Small, who represents Central ward, believes the "Cavern Quarter is too dominated by the night-time economy".
He told JMU Journalism: "Some tour groups won't take the tourists there of a Thursday, Friday or Saturday afternoon because its too dominated by alcohol-led businesses and people don't feel safe there. The Cavern Quarter should be about new, live, Liverpool music and celebrating our musical heritage."
He added: "What I'd like to see in Mathew Street is something similar to New Orleans and Nashville, who look at their musical heritage, and people are going there listening to live music.
"I want to see what the council can do, working with businesses to bring in more tourism and create more jobs and create a better representation of our city."
YouTube: Luke Edwards