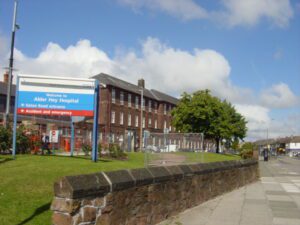 A demonstration has been held outside a building site at Alder Hey Hospital to protest against the "scandal" of blacklisted workers.
Around 60 activists from the Blacklist Support Group staged the demonstration, claiming that the site's main contractor, Laing O'Rourke, has refused to negotiate with construction unions over rates of pay or safety.
They also claim that the company has denied union officials access to the site to speak to workers.
The contractor is among eight major construction companies which are to compensate workers whose names were on a secret industry blacklist of 3,200 men, exposed in 2009 after a lengthy campaign by unions.
Steve Acheson, a blacklisted electrician and chair of the Blacklist Support Group, told JMU Journalism: "We had people from Unite the Union and Blacklist Support Group come out to highlight this blacklisting and the legal right of us workers to go to work.
"Laing O'Rourke refused negotiations with us, so we decided to protest at the site. These workers have been suffering for a long time now. It's a national scandal."
Those on the blacklist claimed they were denied work, and often for only raising concerns about health and safety on construction sites.
Roy Bentham, a blacklisted joiner from Liverpool and UCATT member, told JMU Journalism: "We're looking for recognition from Laing O'Rourke and for them to start negotiations with us.
"The protest was called at short notice but went well. I believe the 60 who came made our message clear, but if there isn't any progress we may come again.
"What we're telling them is, we want jobs on that site for the people who were blacklisted, and also we're calling on the authorities for a full independent inquiry into why the workers were blacklisted and how far it went up the political chain – if there were MPs or cabinet members involved."
Legal action is being taken on behalf of some of the workers on the list, with the case in the High Court on November 29. As well as Unite, the demonstration also had members from the UCATT and GMB construction unions.
JMU Journalism contacted media representatives of Laing O'Rourke for comment, but did not receive a response.