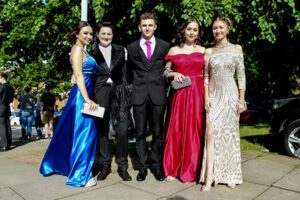 A Merseyside school is appealing for donations of prom suits and dresses to help prevent pupils who can't afford them from missing out.
Rainhill High School is making the appeal for the first time ever after becoming concerned about the prospect of money being a barrier to participation in the end-of-year celebration.
John Pout, Executive Principal of the school, told JMU Journalism: "The prom has become a real 'rite of passage' for all high school students.
"To get to the Rainhill High School Prom, students have to work hard, have excellent attendance, show great attitude and attend many revision classes. We are aware that, given the current economic climate, a number of the families of hard-working pupils are struggling financially.
"We do not want the cost of the prom to stand in the way of these students celebrating the end of Year 11 with their classmates."
Students will not be charged in order to loan the donated clothing as the aim is to provide pupils who cannot afford to buy suits or dresses of their own with an opportunity to still go to the prom.
YouTube: Rainhill High School
https://www.youtube.com/watch?v=Sa9b1AGpNfw
However, the school will ask that all outfits are returned afterwards in a good, clean condition as they can then be used for future years.
The appeal – which may become an annual tradition – started with a simple post on Facebook and it has since been shared more than 500 times.
So far, parents have responded well and several suits and dresses have been donated. A local hairdresser has also offered a number of free and lower-price party haircuts, and Liverpool FC are providing suits for two boys who have really excelled throughout the year