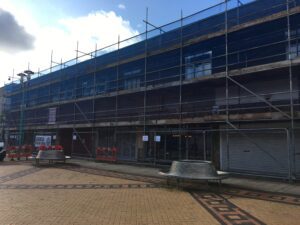 The next phase of Knowsley Council's Huyton village regeneration plan is currently underway.
Wth the first section of the new shop front project completed, the council is now in the next stage of development for the Huyton village centre initiative.
A range of new initiatives is now underway, including more food and drink outlets which will help with Huyton's night-time economy, as well as live events for the autumn and winter season.
CCTV is also set to be installed which will help improve the safety of local businesses.
Councillor Tony Brennan, Cabinet Member for Regeneration and Economic Development, said: "I'm delighted with how our plans for the village centre are progressing and look forward to seeing a further phase of shop fronts transformed over the coming months."
Twitter: Demi Williams
Knowsley Council has started the next stage of the Huyton Village Investment Project. @JMUJournalism pic.twitter.com/zTC8geXk7z

— Demi Williams (@demiwilJMU) November 4, 2019
The investment programme comes from a survey that was carried out last year, which asked residents what they wished for the village, with the overall responses asking for the shopping centre to look more modern and attractive.
The five outlets now completed include Rogues and Rascals Barbershop, Eton Place Mediterranean restaurant, Stitch Perfect Clothing Alterations, Yes Coffee and Star Noodles.
Lynn Taylor, 36, from Liverpool told JMU Journalism: "I really like the new look. The new shops make the village look so much more inviting. It think the council have done a good job."
Anna Prudhoe, 22, from Liverpool told JMU Journalism: "I like how the village is starting to look; it's more of a community now with the small businesses. I can't wait to see the village when everything's finished."
During phase two of the initiative, businesses will remain open as usual.