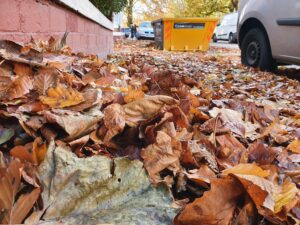 Residents have raised safety concerns regarding leaves piling up on Liverpool's streets.
Many suburban pavements have seen a build up of fallen leaves due to the high winds in recent weeks. There are fears walkways are becoming dangerous and residents claim they have seen very little done to resolve the issue.
Aigburth pensioner Joyce Roberts struggles with mobility issues and has raised concerns the leaves covering the streets near her home are becoming a serious hazard. The 74-year-old uses a walker and says the excess leaves make it harder for her to walk up the road.
"I don't leave the house very often, but I go to the park to sit on a bench and watch the birds if I ever get cabin fever," said Mrs Roberts.
"I love the autumn and seeing the red and orange leaves everywhere, but it seems a bit unfair I can't make it to the park. I would like to go for a walk, but I'm worried I might fall because it's very hard to see the floor."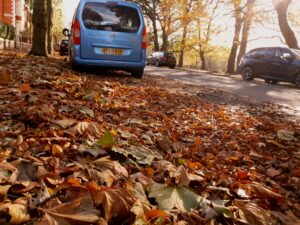 In addition, outdoor drains are prone to clogging when autumnal leaves are blown across grids. As the leaves decompose, water is prevented from getting into the drains which can lead to an overflow of rainwater and contribute to local flooding.
England has just recorded one of its wettest October's since records began and Amie Brown, 27, from Wavertree is worried the build up of leaves could see a repeat of the flash floods that hit the North West in June.
"I was looking after my nan in the summer, she lives in Garston and her road was flooded," said Mrs Brown.
"I couldn't drive anywhere to pick up her shopping. I don't want anything similar happening here. Leaves causing problems is the last thing we need with everything else going on.
"They've been laying around here for a long time, it seems recently we've had lots more fall. I haven't seen anyone doing anything about it really."
Liverpool City Council are yet to respond to our request for comment. However, Charlton Sweeper Hire manager Shaun, whose company is sub-contracted to clean Liverpool's streets, suggested financial contraints could be a factor.
He said: "I would probably get them done more often but that's to do with budget on the council's side and how many sweepers the council has to cover the whole of the Liverpool area. I'm presuming they will clean it towards the end, when the leaves have fallen off.
"It's not something that goes away straight away, they fill road sweepers quickly. I wouldn't say it's a never-ending job, but it can take a while. I would expect them to concentrate on the a-roads rather than residential roads. But it's part of nature at this time this year, leaves are going to fall."