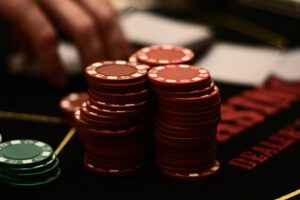 Problematic gambling is on the increase after figures revealed that there are around 12,000 people suffering in Merseyside alone.
Shocking statistics from the Beacon Counselling Trust show people as young as 11 are at risk of developing a gambling problem, as well as 15% of 11-15 year olds admitting having gambled in the past week.
Along with National Treatment Provider GamCare, the trust is helping raise awareness of its free support service in order to help people resist the urge to gamble ahead of the festive season.
Neil Platt from the North West Beacon Counselling Trust highlighted the different social reasons that have the potential to make gambling more of a problem.
He told JMU Journalism: "Young people tend to find creative ways around the restrictions. With bookmakers in particular they are becoming very airy and comfortable to be in, with coffee machines, etc. To me, because of the cutbacks across the board, they are becoming in some areas the new youth club."
As well as social aspects, the new online gambling phenomenon of smart phones and their increasingly accessible apps make it is easier than ever to place a bet without having to leave the house.
Young men between 16 and 24 are most likely to become addicted, but official estimates claim that internationally it is the biggest risk factor in female suicides. This is due to the different clinical pathway they have to men, leaving older women being vulnerable to the lure of betting shops and websites.
Addressing the snowball effect gambling can have on not only the addicted, Mr Platt added: "When we talk about a mother or a dad who is suffering from pathological gambling it could potentially affect a family unit of between three or four people. If you factor all those numbers up by that it gives you an extent of the problem and puts it into perspective."
A service launched in April by Beacon Counselling Trust has had around 400 people come through its doors with the hope of recovery.
Under the gambling act of 2005, the responsibility to provide treatment to those affected through problematic gambling falls to the industry itself. The Responsible Gambling Trust raises between £5-6 million a year, which is distributed to Gamcare and the network of treatment providers around the country like Beacon Counselling.
To access this free service, contact The Beacon Counselling Trust on 0151 226 0696