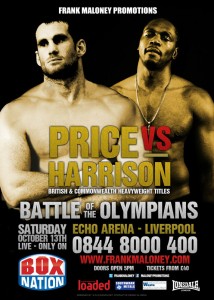 In a contest branded the 'Battle of the Olympians', home town hero David Price is set to take on Olympic gold medalist Audley Harrison at the Echo Arena on Saturday.
The Liverpool heavyweight is set to defend his Commonwealth and British titles in front of a vocal Liverpudlian crowd on October 13th.
The fight is said to be part of a master plan to push Price into contention for a world title shot against reigning champion Wladimir Klitschko.
Standing in the way of this ambition is a boxer who has not quite fulfilled his potential since taking Olympic gold 12 years ago in Sydney.
Harrison, 40, has struggled to establish himself as a real contender in the division after a promising start, despite being given the opportunity to fight for the most coveted title in boxing, where he lost to fellow Briton David Haye in a world heavyweight title fight two years ago.
However, Harrison, who has come back from a career-threatening pectoral muscle injury, has claimed he has fallen back in love with boxing and is ready to take it to Price in this do-or-die fight.
Unbeaten Price has played down the poor reputation of his opposition, praising his hard hitting style, saying Harrison will give everything in order to save his reputation and career.
Price, 29, will have to surpass the 40 year old in a bid to progress, his already impressive 13 fight career, to the next level.
The Liverpool fan is not short of local support, Reds legend Jamie Carragher coming out to praise the 6 ft 8" boxer, telling the Echo: "Pricey wins. I'll go for him in the sixth round."
Price told the Liverpool Echo: "The Arena will be packed on Saturday and I've got to say that the fans have been terrific and I couldn't ask for any better."