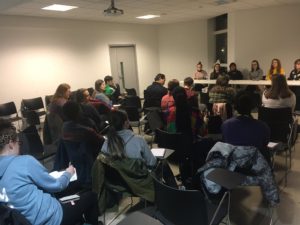 Presenter Angela Samata gave a compelling guest talk as she joined a panel discussion as part of LJMU's health and wellbeing week activities.
Her contribution came as LJMU's Student Minds society hosted a uni mental health day fundraiser' as the 2015 Merseyside Woman of the Year was on hand to offer advice and guidance.
Among the topics on the agenda, the discussion touched upon the ways in which the university can assist with students' concerns.
The group stressed how important it is that student opinions on the best forms of support are considered when the university decides the ways in which they look to help those dealing with mental health issues.
Ms Samata, who filmed a BBC documentary 'Life After Suicide' following the loss of her own partner Mark, joined the Student Minds team in what was a successful evening of discussion and fundraising.
Overall, it left Jenny Ogden from the Student Minds society delighted with how everything turned out.
She said: "I'm so proud of all the team and so happy with how the event went. The topic of mental health is very personal to me having lost my own friend Will to suicide last year.
YouTube: Sean Whelan
"I was also so happy to have Angela there. She has also been affected by suicide so she could understand exactly what we were discussing and has the knowledge to weigh in with some great opinions."
"It was important to have someone chairing the event who wasn't totally affiliated with LJMU, but as she is so well informed and is also an honorary fellow of LJMU it was great to have her," the 21-year-old said.
LJMU offers a variety of services to help students dealing with mental health issues and details can be found here.