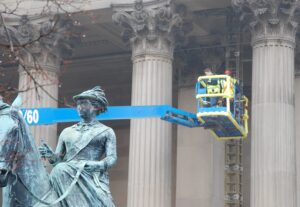 The iconic 'Weeping Window' poppies have now arrived in Liverpool and anticipation mounts as they are being prepared for the display which opens at the weekend.
Thousands of the ceramic poppies are being brought to town in three lorries five days ahead of the opening and they will be displayed outside St George's Hall from November 7th until January 17th.
They are in the process of being carefully placed to create the stunning artwork people will remember so well from the Tower of London display last autumn.
Expectation is building as the people can now see the poppies,  being arranged by the 14-18 NOW cultural programme production team which has started putting them in place.
Jenny Waldman, Director of 14-18 NOW, told JMU Journalism: "It takes a whole production team to prepare for the display and the poppies have to be handled carefully as they're very delicate.
"We've had an amazing response and huge numbers coming to visit the poppies in Yorkshire and Northumberland, with many people using the hashtag #poppiestour. The 14-18 NOW presents artwork that reflects WW1 from a contemporary perspective."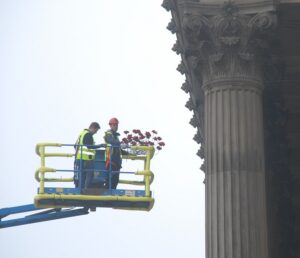 The Remembrance Poppy has been a symbol used since 1921 to remember soldiers who have died in war and those fighting today.
The display will open in time for Liverpool's annual Remembrance Service this Sunday. Hundreds will gather to pay their respects to servicemen and woman in a service at St George's Hall Cenotaph.
People all across the country will come together to honour those who gave their lives in conflicts past and present.
Liverpool's Lord Mayor Erica Kemp will lead proceedings and the service will include a two-minute silence, prayers of thanksgiving and the National Anthem.
Services will also take place in various Merseyside locations including Waterloo, Birkenhead and at the Cenotaph in Lord Street, Southport.