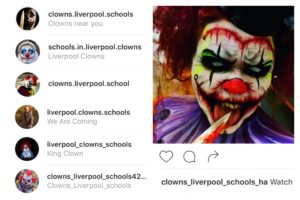 The creepy clown prank phenomenon that has been sweeping the UK has made its way to Liverpool, with schools and police on alert after a series of threats.
The craze, which originated in the United States, involves people dressing up as clowns and attempting to scare strangers by moving towards them.
It has turned sinister on some occasions when the clowns have brandished weapons, while others have also been attacked by the same people they are attempting to frighten.
In Liverpool, a social media frenzy escalated over the weekend following the first reports of a sighting of a man dressed as a clown driving a white van around the city centre on Thursday.
He was spotted by student Jimmy Evans, 20, who told JMU Journalism: "I was walking to uni past St George's Hall and then a clown in a transit van with England flags all over it drove past me. It was really scary and I hope they don't start popping up everywhere."
Since then, local pranksters have been taking to Twitter and Instagram to create accounts which have threatened around 10 different schools with the prospect of scary clowns loitering outside.
YouTube: CBS News on creepy clowns craze in USA
There are at least 50 'Liverpool Clowns' Instagram accounts with posts about the threats, with some covering specific areas and schools in locations such as Anfield, Kirkby and St Helens. Certain accounts have also posted photos of the schools that they are claiming to target.
Chief Superintendent Peter Costello warned: "Merseyside Police wants to make it perfectly clear that behaviour of this type will not be treated as a joke or prank, doing this to a stranger may cause alarm or distress and could constitute a criminal offence such as harassment.
"We will not tolerate any kind of anti-social or criminal behaviour directed at any members of our communities.
"We would urge people to seriously consider what impact this kind of behaviour might have as well as whether their behaviour could constitute a crime and could lead to their arrest and a potential criminal record."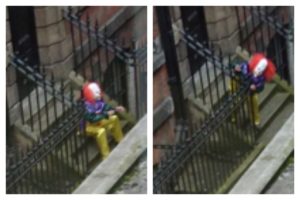 Liverpool's Director of Children's Services, Colette O'Brien, issued a statement to anxious parents, which reads: "There is no credible threat linked to these series of rumours and police are keen that children are reassured and the issue is de-escalated.
"Neighbourhood officers have been deployed to assist in the management of this regrettable chain of events."
Although the buzz surrounding clowns has been heightened on Twitter, it is not thought that there have been any confirmed sightings of clowns near schools.
However, there have been sightings of at least one rogue clown in town today.
John Edge, 20, took photos of the clown from his window at work in Old Hall Street. He told JMU Journalism: "He [the clown] was just sat around about 10 minutes and he left not long after. People started to move to the windows to see what was going on – it caused a scene."
Additional reporting by Poppy Backshall