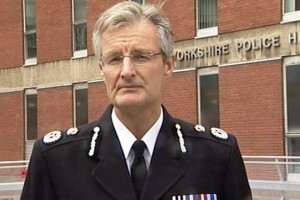 The head of South Yorkshire Police has been forced to apologise after an email surfaced about the Hillsborough disaster where he said that justice campaigners had established what he called "the truth even though it isn't".
David Crompton, Chief Constable at South Yorkshire Police, sent the email in September 2012, just four days before the Hillsborough Independent Panel report was published, criticising police for the way they handled the 1989 disaster where 96 Liverpool fans died.
Mr Crompton has issued an apology for the email, which was released following a Freedom of Information request.
In the message, sent to Assistant Chief Constable Andy Holt and the head of corporate communications Mark Thompson, Mr Crompton wrote that the South Yorkshire force "may be missing a trick" by not using their own website to put across their view of the disaster.
He added: "One thing is certain – the Hillsborough Campaign for justice will be doing their version… in fact their version of certain events has become 'the truth' even though it isn't!!"
It also read: "I just have a feeling that the media 'machine' favours the families and not us, so we need to be a bit more innovative in our response to have a fighting chance otherwise we will just be roadkill."
Apologising for what was written, Mr Crompton has said that following the publication of the report, he supported their findings and still does. "'It was never intended to cause any offence and I apologise if it has done so. Nor was it intended to challenge the integrity and views of those who lost loved ones in the Hillsborough Disaster," he added.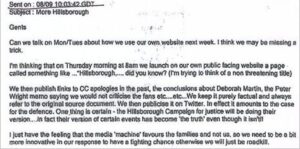 However, Shaun Wright, Police and Crime Commissioner for South Yorkshire, has spoken out about his disappointment in the top policeman for using such language, even in an internal email. He said: "I raised my concerns with the Chief Constable. As Police and Crime Commissioner it is my duty to hold the Chief Constable and the Force to account in the interests of the public."
Speaking to the Liverpool Echo, Hillsborough campaigner Margaret Aspinall said she would not accept the apology: "I'm absolutely appalled but it doesn't surprise me. They've always talked about us this way."
The report by the Hillsborough Independent Panel concluded that Liverpool supporters were not responsible for the tragedy, blaming a "failure of police control" for the fans' deaths.
In December last year, the original verdict of 'accidental death' was quashed and completely new inquests were ordered. On the same day, a brand new police investigation into the disaster was also announced by the Home Secretary, Theresa May.