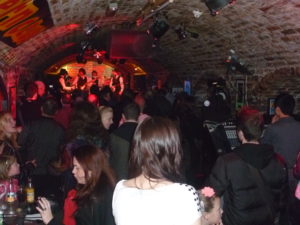 The 50th anniversary of the Beatles first single reaching the top of the UK chart was marked by a tribute gig in the place where it all began – the Cavern Club.
On the 19th of February 1963, the Beatles were playing at the symbolic venue on Mathew Street when they received a telegram announcing Please Please Me had hit the number One spot.
Co-owner Dave Jones, addressing the 2013 Cavern crowd, said: "From the 20th of February onwards, they belonged to the Nation and then, by 1964 they belonged to the world."
Pictures taken by Michael Ward at the moment the Beatles heard the news of their success were displayed in the Cavern to highlight the day they stopped being a local band and Brazilian tribute act All You Need Is Love celebrated the Beatles' success with two performances – including Please Please Me.
Cesar Kiles, who plays as Paul McCartney, shared his enthusiasm with JMU Journalism: "Today was really fantastic; we're doing the same thing as the Beatles who used to play there. It's amazing for us."
Since the band launched Sandro Peretto (John Lennon), Cesar Kiles (Paul McCartney), Thomas Arques (George Harrison), Renato Almeida (Ringo Starr) and Anselmo Ubiratan (George Martin also referred to as the fifth Beatle) have attracted crowds of more than 300 000 people over the course of their shows in Brazil.
Asked about their favourite Beatles' songs, Cesar said Something while Thomas chose Don't Let Me Down. Renato wittily designated the song of the day Please Please Me and Sandro stuck to his character and opted for Sunday Bloody Sunday (a song by John Lennon).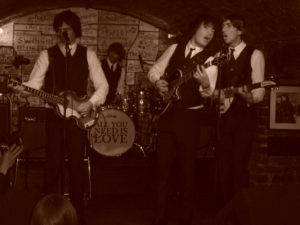 Cesar and Thomas met in a similar way to McCartney and Harrison. Cesar explained: "I met George at College in Rio; he gave me a tape of 'Can't Buy Me Love' and we found out that we both loved the Beatles. We started playing together just for fun and eventually it became a serious thing."
The Brazilians played at twelve noon for over two hours and later on at 8pm. They dug into their repertoire of classic anthems from the English band before asking the public what songs they would like to hear. Hey Jude was the first one to be requested.
The Cavern stage, where the Beatles played almost 300 times, also proved to be the perfect place to record their new DVD 'The Real Beatlemania'.