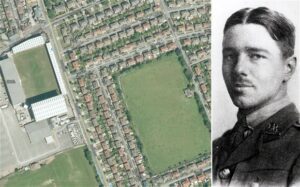 Former pupils of Birkenhead Institute School are calling for "one last chance" to pay their respects to the fallen on Remembrance Sunday before their memorial playing field is developed into a housing estate.
The Ingleborough Field, in Wirral, is currently a training ground for Tranmere Rovers football club.
However, despite a massive campaign by those who wanted the field to remain a memorial for famous war poet Wilfred Owen and 88 old boys of the school, permission has been granted by Wirral Council to build up to 90 houses on it.
Dean Johnson, who helped lead the campaign against the planning application by Tranmere and is a former pupil of the Institute himself, has written to the football club seeking permission to access the site on Remembrance Sunday.
This request has been made to give the alumni the opportunity to pay homage to the young men of Birkenhead Institute at a place special to them for what could be the last time.
Mr Johnson said: "The timing of this planning decision was very regrettable, being to near to Remembrance Day; this year it falls on a Sunday and we have written to Tranmere Rovers Football Club to allow us to hold a short service.
"In past years when the school was in existence, we could honour and remember our fallen there and would be grateful if TRFC if they would grant this simple request."
Mr Johnson, from The Wilfred Owen Story in Birkenhead, believes Wirral Council has a lot to answer for. He told LJMU Journalism: "I am appalled by their actions. They are aware of the true heritage of the site yet have chosen to ignore their duty to honour the fallen remembered there."
The public have been invited to leave a poppy outside the Field gates as a gesture to those who have served in the armed forces.
Additional reporting by Ryan McCann