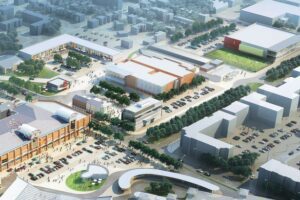 Developers have announced ambitious plans to transform Birkenhead town centre into a modern shopping and leisure centre.
A consultation, led by 'Ion Developments', will be held to allow residents and businesses to give their views on the proposed plans and offer their ideas on how they can continue to take Birkenhead forward.
The announcement comes after it was revealed that £150m would be made available to make CH41 an attractive postcode for organisations wanting to invest in the Northern Powerhouse.
The regeneration project will include a complete revamp of Birkenhead's shopping outlets and Europa Pool, which is one of the Wirral's most popular indoor swimming destinations.
Another focus for the regeneration scheme is to maximise Woodside's waterfront and improve transports links across Birkenhead.
Not only will the project focus on the town centre of Birkenhead, the developers are also looking to revitalise the historic buildings in and around Hamilton Square.
A spokesperson for Wirral Council believes that Birkenhead's wait for investment has been long overdue, and told JMU Journalism: "It's one of the areas on Merseyside that is crying out for investment.
"For years now Birkenhead has seen investment come elsewhere such as Liverpool One and New Brighton's Marine Point and we would welcome the opportunity for Birkenhead to get that chance."
Steve Parry, Managing Director of Ion Developments, says that Birkenhead has become a real asset to the Wirral and with regeneration it could become an alternative draw to Liverpool city centre.
A number of residents have welcomed the idea of regeneration around Birkenhead.
Ryan Phillips, 34, of Priory Wharf, told JMU Journalism: "I have lived here for years and it is depressing at the moment, but if this plan was to go ahead I would be ecstatic."
Ashley Howell, 27, from Prenton, believes it will give the community something to look forward to. He told JMU Journalism: "As it is Birkenhead needs something new as it doesn't really have the best reputation. It would be amazing for the community to have something to look forward to."
The consultation and public exhibition of the plans will be held at Birkenhead's Pyramid shopping centre today (Thursday) and tomorrow between 10am-6pm, and on Saturday from 10am-5pm.
Full details of the regeneration project can be found at this website: www.moveaheadbirkenhead.com.