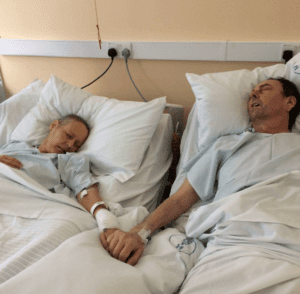 Children of a Wirral couple who battled against terminal cancer side-by-side have been flooded with tremendous support after a picture of their parents' last moments together circulated online.
They shared a photograph of their parents clasping hands in a Merseyside hospice as they said their final goodbye, taken just days before their passing.
Friends of the couple made a promise to Julie Bennet, 50, on her deathbed to support and care for her three children and have set up an appeal to help them cope with a future without both parents.
They have made a heart-breaking plea to raise money for Oliver, 13, Hannah, 18, and Luke, 21, so they can continue living life at home and sustain their activities and studies.
The tragic image went viral on social media and it touched many people who contributed massive support to the fundraising campaign, bringing in more than £100,000 within a week.
The Bennet children issued a statement, saying: "We just want to say a huge thank you to everyone who has donated and sent their support in this difficult time.
"We really appreciate it and would like everyone to know that our mum takes a great amount of comfort from knowing that we are being supported so well by friends, family and kind-hearted strangers. Thank you again."
Mother-of-three, Julie, was diagnosed with liver and kidney cancer in May 2016, while husband Mike, 57, had been battling cancer for years after being diagnosed with a brain tumour in 2013.
The Irby parents died together in St John's Hospice, Wirral, in the space of a week.
Heather Heaton Gallagher, a family friend and spokesperson for the children, told the Mirror: 'Words cannot express our desperate sadness for such a beautiful family. The Bennets are known to all for their generosity, their love for life, and their down to earth approach.
''Julie has kept the children in a normal routine whilst dealing with Mike's illness over the past few years. When Julie became ill, she made it her purpose to create as many memories as a family for the children to hold onto."
Mike was a self-employed cabinetmaker who had served his apprenticeship with Baldock's Furniture Makers in Liverpool, while Julie worked as a primary school teacher in Wallasey before being diagnosed.
The crowdfunding page has raised more than £120,000 so far, surpassing their initial target of £50,000.
YouTube: Breaking News