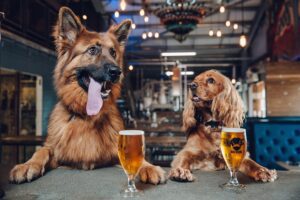 Craft brewery firm, BrewDog, has announced that it will offer its staff paid 'pawternity' leave of up to seven days to look after a new dog.
The firm, which has its Liverpool branch in Colquitt Street, is known for its creative staff benefits, such as its 'dog years' scheme, which allows employees who have worked for more than five years at the company to take up to four weeks paid sabbatical to do something exciting.
BrewDog also offers enhanced paternity and maternity pay and workers are also entitled to a share of the company's 'Unicorn Fund', where 10% of the annual profits are divided equally as an extra bonus.
Liverpool BrewDog, which is known for its colourful 'howl'oween' puppy parade, is just one of the outlets to open after co-founders James Watt and Martin Dickie established the Scottish brewery in 2007.
Speaking of the decision to launch the 'pawternity' leave, Mr Watt said: "It's not easy trying to juggle work and settle a new dog into your life, and many members of our crew have four-legged friends at home. So we wanted to take the stress out of the situation and let our teams take the time they need to welcome their new puppy or dog into their family.
"We always want to raise the bar when it comes to offering our staff the best possible benefits; at BrewDog, we care about two things above all else: people and beer. We also just really, really like dogs."
YouTube: BrewDog