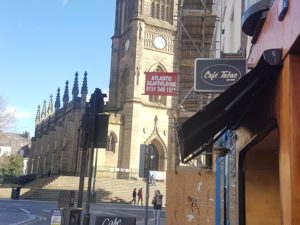 A Bold Street bar is calling on members of the public to share their pictorial memories as part of the venue's new look.
Café Tabac is undergoing a major refurbishment, and wants customers to donate any old photos that can help tell the story of its 40-year history.
The Amsterdam-inspired café opened in 1974 and became a popular haunt for such famous faces as Frankie Goes to Hollywood frontman, Holly Johnson, and Benidorm actress, Margi Clarke, who are both contributing to the makeover.
Originally set up by businesswoman, Rita Lawrence, the bar adopted a European style with a bohemian feel, and was a hotspot for many of the city's performing arts sector.
For the new refurbishment, Tabac has walls prepared as 'public display areas', where the memories of the establishment through the eyes of the Liverpool natives will be on show in the form of photos and memorabilia from the 70s onwards.
YouTube: Half Cut
Lucy Jones, General Manager at Café Tabac, told JMU Journalism: "We get daily anecdotes from the regulars. The[re is a large] amount of people who have said they had their first date at Tabac. It would be great to have some picture evidence for everyone. There are a lot of stories to be told that we don't know about."
Refurbishment is currently underway, with it set to finish once the photos from the public have been received.