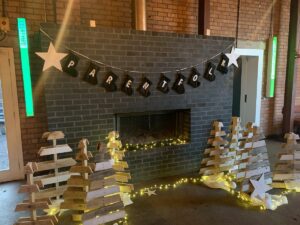 Festive fun for all the family was on offer as Santa Claus came to town in a themed event at the Camp and Furnace.
The Parent Folk weekender focused on making memories for families, in an alternative environment with raves and live music.
The Big Ho! Ho! Ho!, which was sponsored by children's toy brand Brio, included DJs, workshops and street food, with Santa also telling stories.
Parent Folk, which is an online publication, aims to make their events affordable for families, with all activities included in the ticket price.
Group founder, Nicola Spindler, told JMU Journalism: "When we launched Parent Folk, we decided we wanted to get to know our community and see it come alive, so we created the Parent Folk weekender which is what you've seen here today.
"It's just somewhere to bring the kid, on a Saturday or Sunday afternoon and have a great time hanging out while the kids are entertained."
Twitter: Katie Preece
At the Big Ho Ho Ho today for @JMUJournalism pic.twitter.com/tVSoErWU4k

— Katie Preece (@kpreecejourn) November 30, 2019
Parent Folk has expanded by launching in the South West and Scotland this year. Ms Spindler: "Our whole objective at Parent Folk is imprinting in person. It's about storytelling, connecting with businesses and putting the publication out there.
"It's also about hosting family events, without it being too far removed from your clubbing days. There's good music, decent DJs, good food and a bar, but the kids will still be entertained too."
As a company, Parent Folk says it tries to be as inclusive as possible to ensure that mums or dads won't worry about going to the events alone and will engage with the community they have built by running the event.
Nicola said: "We want to do something that was accessible. Dads come alone while the mums are going Christmas shopping, they feel comfortable in that environment. People always ask what's different about the Parent Folk weekender? I think it's the community, a lot of these people are familiar faces now.
"We find that we have grown because they have brought friends along who are like minded.