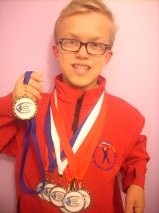 Local teenager Dylan Beaumont is aiming to compete in the Paralympics after winning eight medals for Great Britain in the World Dwarf Games.
The Maghull High School pupil, aged 13, has a rare genetic disorder known as achondroplasia or short limb dwarfism. However, he hasn't let his condition hold him back and began his sporting journey at the age of just two competing in the Dwarf Sports Association UK national games.
This year Dylan won ten medals in these national games and went on to become the only person from Merseyside selected to represent Great Britain at the World Dwarf Games in Michigan; the largest sporting event in history exclusively for athletes with dwarfism.
However, it seemed unlikely that the young sporting hopeful would make it to Michigan when three weeks before the games he was struck down with appendicitis and needed emergency surgery after which doctors advised him not to compete.
Dylan's dad, Nick Beaumont, told JMU Journalism: "The doctors did advise against him competing but we thought we'd at least give him the opportunity to travel to Michigan to watch the games but once we were over there, there was no holding him back."
Dylan competed in all of the events he had planned to, including javelin and badminton, and brought back eight medals including a gold as part of the Great Britain football team that beat USA 3-2 in the final.
Despite his achievements, including being a Liverpool Echo 2012 Pride of Merseyside runner up, the Warbeck teen shies away from the limelight.
Mr Beaumont said: "He feels a real sense of pride but he has mixed emotions about the attention he gets. He's just an average 13-year-old boy. There's some leg pulling by his friends but they're all really proud of him like we are."
The proud dad admits that "in this big bad world Dylan does get a few points and stares" but says the Dwarf Sports Association UK charity gives him a real boost of confidence.
Paralympic gold medal winner Ellie Simmonds started competing in the charity's national games when she was a toddler and has become an inspiration to Dylan as they have the same condition.
Nick Beaumont said: "He see's Ellie doing so well and wants to follow in her footsteps to Paralympic success… 2016 might be a bit soon but getting to the Paralympics is definitely the dream for Dylan."