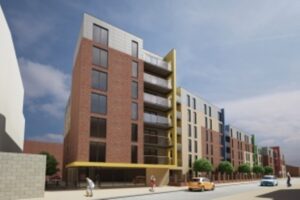 Elderly residents are furious after Liverpool City Council's planning committee approved a scheme that will see a seven-storey student accommodation block built beside an estate near Liverpool University's Great Newton Street campus.
The University of Liverpool building proposal, which was brought forward by Marcus Worthington Properties, will face the bungalows and terraced houses of already-disgruntled pensioners who have been subjected to noise and littering for years.
Architects for the plans have assured residents that alongside the city planners they will devise a strategy that will eliminate noise disruption in the area and have ensured that the quality of life in the area will remain the same.
Great Newton Street resident, Margaret Rimmer, 67, told JMU Journalism: "I have been living here for many, many years and despite what they (architects for the building) say, things have just got gradually worse in this area over the last 10 years or so. We all feel the same. I'm not happy with the quality of life in the area at the minute, never mind when they throw up another block of flats."
Margaret's husband Jim, 70, also told JMU journalism how things can't possibly remain the same: "It's nonsense to say we won't be affected. If you put 300 students together in one big building, they are going to sing and shout and cause trouble when they come home drunk. And who do you think will be out cleaning the streets the next day?"
Chairman of the committee, Cllr John Mackintosh said: "I do have sympathy for the population because they get hassle a lot of the time, but we can only go on our planning laws and our hands are practically tied behind our backs."Five of the 13 matters that were addressed on the council's planning agenda were proposals for student halls that will potentially see an additional 836 student bedrooms spring up in Liverpool city centre.
Plans were also discussed for 305 student accommodation studios to be built in Seel Street, a refurbishment of Arndale House on London Road for 160 student roads, as well as 354 student rooms on Catherine Street.